I can't believe Christmas is right around the corner! How absolutely ridiculous. We're spending Christmas Eve with my in-laws and having everyone over for Christmas morning breakfast (my parents + my in-laws-- including sister/brother in law, parents, possibly aunties and grandma).. everyone is looking forward to watching Brooke tear through her presents!

My mom & dad went out and got the little monster a huge play kitchen and it's currently sitting in our storage room ... just waiting to be played with. My mom is like a little kid right now and keeps asking me, "is it okay if she opens it early?" Our plan is to have her open it on Christmas Eve morning so she can play with it all day so it's not the only thing she'll play with on Christmas morning.

I am the proud owner of a Nook Color... unfortunately my husby wrapped it up and it's sitting under our tree... mocking me. :(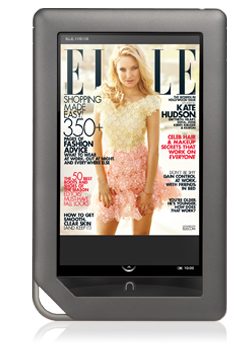 I am extremely pleased to announce that my baby's black eye has disappeared. Thank God.
Here she is playing with some hand me down blocks from her cousin, Emily. I have a few cousins with kids who are now 8, 7 & 5, so we are EXTREMELY fortunate that they have given us all of the toys and books they are done playing with! Notice how everyone is 'playing' with Brooke-- she is miss boss in this house!
And last but not least, here is a pic from our Christmas card this year. My brother's girlfriend is an uber talented photographer, no?