As I sit here typing this, my neighbors are taking a freaking chainsaw to their shrubbery which has grown so long it hangs over the side of our wall. This is all being done as my poor baby girl is taking her much needed nap. Grrrr. I hope they realize if they wake her up, they are responsible for putting her back to sleep...
Anyway, today is Martin Luther King Day and while I won't post his speech on my blog, I
will
post parts of President Obama's speech from Tucson, which was incredibly moving and touching and brought me to tears while I watched all the way from this little island.
So sudden loss causes us to look backward - but it also forces us to look forward, to reflect on the present and the future, on the manner in which we live our lives and nurture our relationships with those who are still with us. We may ask ourselves if we've shown enough kindness and generosity and compassion to the people in our lives. Perhaps we question whether we are doing right by our children, or our community, and whether our priorities are in order. We recognize our own mortality, and are reminded that in the fleeting time we have on this earth, what matters is not wealth, or status, or power, or fame - but rather, how well we have loved, and what small part we have played in bettering the lives of others.

That process of reflection, of making sure we align our values with our actions - that, I believe, is what a tragedy like this requires. For those who were harmed, those who were killed - they are part of our family, an American family 300 million strong. We may not have known them personally, but we surely see ourselves in them. In George and Dot, in Dorwan and Mavy, we sense the abiding love we have for our own husbands, our own wives, our own life partners. Phyllis - she's our mom or grandma; Gabe our brother or son. In Judge Roll, we recognize not only a man who prized his family and doing his job well, but also a man who embodied America's fidelity to the law. In Gabby, we see a reflection of our public spiritedness, that desire to participate in that sometimes frustrating, sometimes contentious, but always necessary and never-ending process to form a more perfect union

And in Christina...in Christina we see all of our children. So curious, so trusting, so energetic and full of magic.

The loss of these wonderful people should make every one of us strive to be better in our private lives - to be better friends and neighbors, co-workers and parents. And if, as has been discussed in recent days, their deaths help usher in more civility in our public discourse, let's remember that it is not because a simple lack of civility caused this tragedy, but rather because only a more civil and honest public discourse can help us face up to our challenges as a nation, in a way that would make them proud. It should be because we want to live up to the example of public servants like John Roll and Gabby Giffords, who knew first and foremost that we are all Americans, and that we can question each other's ideas without questioning each other's love of country, and that our task, working together, is to constantly widen the circle of our concern so that we bequeath the American dream to future generations.

Read the rest of the speech
here


My mama bought me a gift card to Paul Brown to highlight my hair for Chinese New Years / Valentine's Day and I think I'm going to go with something like this...
Rachel Bilson [
In Style
]
I watched the Golden Globes last night and these were my favorite looks: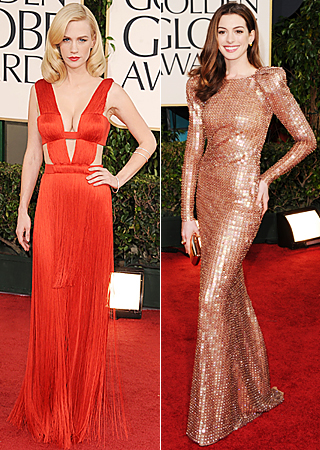 from In Style again
Anyway, this blog is not about to turn into a fashion blog or anything like that (way too much time and effort on my part-- plus I'm not bold enough to ask someone to take pictures of what I'm wearing ... yet), but here's what I wore the other day :) [Really, I'm just trying to hold myself accountable for my new year's resolution)

Taken as my mom and I were shopping at the mall the other day...
Oh, and did you hear? Nicole Kidman and Keith Urban
welcomed a baby girl
named Faith Margaret Kidman Urban-- I
love
the name Faith.
& Owen Wilson and his gf welcomed Ford Linton Wilson-- it doesn't say the name
here
, but I spied it on Perez and a few other sites. Not sure if I like Ford, but it's not celebrity-crazy, so I gues it's OK.
And just because I absolutely love this picture of my girl and her Mickey: