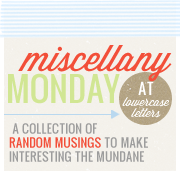 Ooopsie ... missed Miscellany Monday. Oh well, just going to join in anyway on tuesday!
1.
My mom bought Brooke a clown ice cream cone the other day. I've
always
wanted one but have never ever eaten one because they were more expensive than regular scoops... what a lucky girl. & this is how she chose to eat it.
2.
Chocolate covered strawberries from Godiva are the bomb dot com. (Yep, just said that)
3.
My girl has seriously PERFECTED the pout.
future boyfriends beware ;)


4.
I am loving the idea of making a bucket list and crossing everything off... now I just need to find the time to sit down and write it all out...
5.
A good friend recently got me into thrifting. We'd walk around Target and she'd point things out and tell me how much cheaper they were at Savers or Goodwill and I had to see for myself. Now I'm hooked. . . like my new top? Only $5 ;)