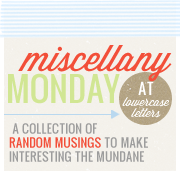 (
1
) A friend gave Brooke this book for Christmas, and it is easily her favorite book-- it's like a where's waldo for little tots and I have to be honest... it drives me
crazy
when I see her heading towards me carrying this book. I want to beg her to get anything else to read!
(
2
) Did you know today is
Pi day
? (3/14 --- 3.14) Is the inner nerd in you going to celebrate Pi Day by eating a pie?
(
3
) Today I realized I was
growing up
when I made an appointment with the dentist [after FIVE YEARS of not going] and realized that dentist & doctor appointments were a luxury and NOT something to take for granted. A good insurance plan = $$$ (If you were wondering, I have a bunch of cavities. *tears* I'll be back in the dentist chair in 2 months) I still
hate
the dentist, even though I realize how lucky I am to be able to go get my teeth checked & cleaned.