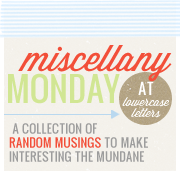 My brother in law recently went to a bachelor party which was very stereotypical ... think STRIPPERS. Yuck. What do you think is a good idea for a bachelor party? Did your hubs go to the strip club, Vegas or something similar? did you have a bachelorette party?
(2) My girl is turning into a real beach bum. This time we took her to CHUN'S, which was beautiful.

Of course we had to stop for Dole Whip on the way home!
(4) I have a cousin I wish I could read this to. She is growing up way too fast ... and not in the best way possible.