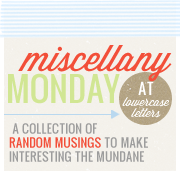 (
1
) It
really
is the small things in life. My Bible from high school (around 10 years or more old) just riiiiiipped one day and I was devastated. I still managed to use it somehow, but after about a week or so I had to start borrowing Vance's one because an entire chunk of it would occasionally fall out and rip more pages.
My father in law came over one day and just "felt" like bringing over a new Bible. Coincidence? I don't think so! Also excited about having to buy a new devotion journal (been using this one off-and-onsince we were engaged and taking pre-marital classes through church) and the new Martha Stewart living magazine. I LOVE new magazines!
(
2
) We took my girly to Chuck E Cheese for the first time. She thought it was totally overrated.
Following me everywhere I went


Basketball girl!
We spotted Chuck E and stayed far, far away. Later that day I scooped her up and we went to say hi to him. She refused to give him a high five or go anywhere NEAR him, but she did wave hi.
Eating udon and coloring her prize :)
(
3
) My girly is going to be two in two weeks. I'm in the middle of planning her second birthday party... will post about the 'theme' later!
(
4
) I have decided after much deliberation to sell all of my precious Louis Vuitton handbags. This leaves my Speedy 30 bag left. Email me if you're interested.
My reason for selling? Over the years I feel that my obsession with Louis handbags have gotten out of control. In reality, it's not
that
bad, but I truly feel it's not good to constantly
want
another bag-- and such an expensive one at that. Vance would buy me a bag (like this beautiful Speedy) and I would be happy for about a month, and then long for the next bag (had my eye on the LV Neverfull if you're wondering). Not my idea of 'simple living' that I want to eventually achieve. :( So while it breaks my heart to sell my purse, I think it's best.
(
5
) After a LONG stretch, I am finally going to get my eyebrows done today! It's an evil necessity and luckily I found a great groupon deal! Finally!